Uflashmi Girl Cave Sign, Little Baby Girl Room Decor Bedroom Wall Decor, 8×10 inch Metal Aluminum
$9.98
Girl Wall Decor, Cute Design, Eye-catching "Girl Cave, No Boys Allowed, Except Daddy" letters, beautiful colorful and pink pattern, a hit for your daughter room

Girl Cave Sign, No Boys Allowed Except Dad Sign, 8X10 inch size, Perfect for little girls room decor, toddler bedroom wall decor

Durable Material, Metal Aluminum material is durable and doesn't bend easily, Rust-Resistant, long lasting, High quality and great price

Easy to Use, you can hang on the wall or door with rope, you also can remove the rope and fixed on the wall with nails or adhesive Double-sided

Toddler Room Decor for Girls, Ideal daughters gifts for bedroom decor wall door decorations, stuff bedroom decor for girls, baby girl nursery decor
Description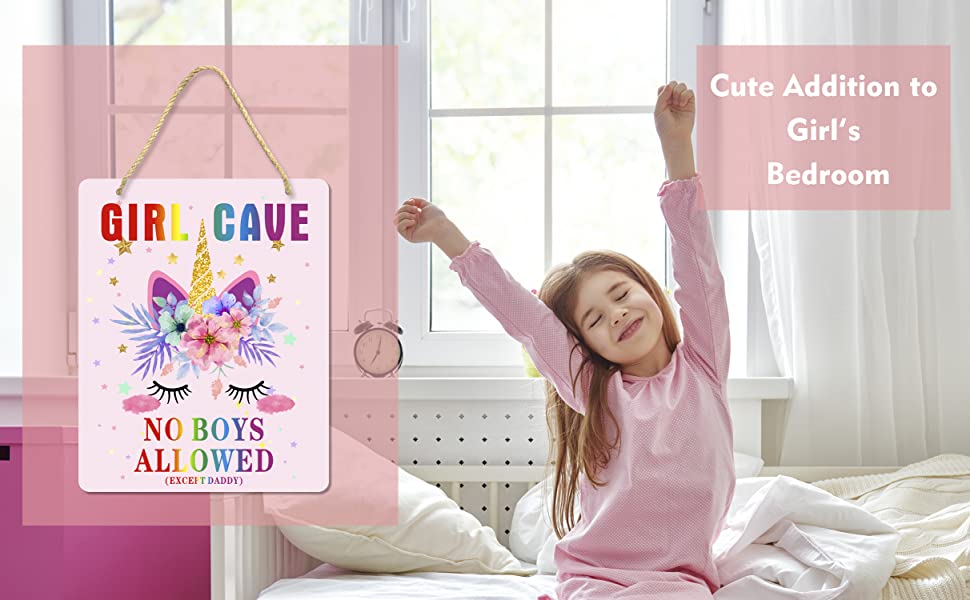 Product detail
Girl Cave Sign, No Boys Allowed Except Dad Sign, 8X10 inch size, Perfect for little girls room decor, toddler bedroom wall decor

Durable Material, Metal Aluminum material is durable and doesn't bend easily, Rust-Resistant, long lasting, High quality and long service life

Toddler Room Decor for Girls, Ideal daughters gifts for bedroom decor wall door decorations, stuff bedroom decor for girls, baby girl nursery decor

Girl Wall Decor, Cute Design, Eye-catching "Girl Cave, No Boys Allowed, Except Daddy" letters, beautiful colorful and pink pattern, a hit for your daughter room


Unique Design
Girl Wall Decor, Cute Design, Eye-catching "Girl Cave, No Boys Allowed, Except Daddy" letters, beautiful colorful and pink pattern, a hit for your daughter room.
Durable Material
Durable Material, Metal Aluminum material is durable and doesn't bend easily, Rust-Resistant, long lasting, High quality and long service life.
Perfect Size
Girl Cave Sign, No Boys Allowed Except Dad Sign, 8X10 inch size, Perfect for little girls room decor, toddler bedroom wall decor.
Easy to Use
Sign comes with jute rope, you can hang on the wall or door with rope, you also can remove the rope and fixed on the wall with nails or adhesive Double-sided.